Travel agency Marketing might be a heavy task and it is very important for every business to market it. Here we are going to discuss the possible marketing strategy for a travel agency. Read the full article to get a brief idea of tourism marketing.
We will divide the marketing strategy for a travel agency into two parts online marketing and offline marketing.
Online Marketing Plan for travel agency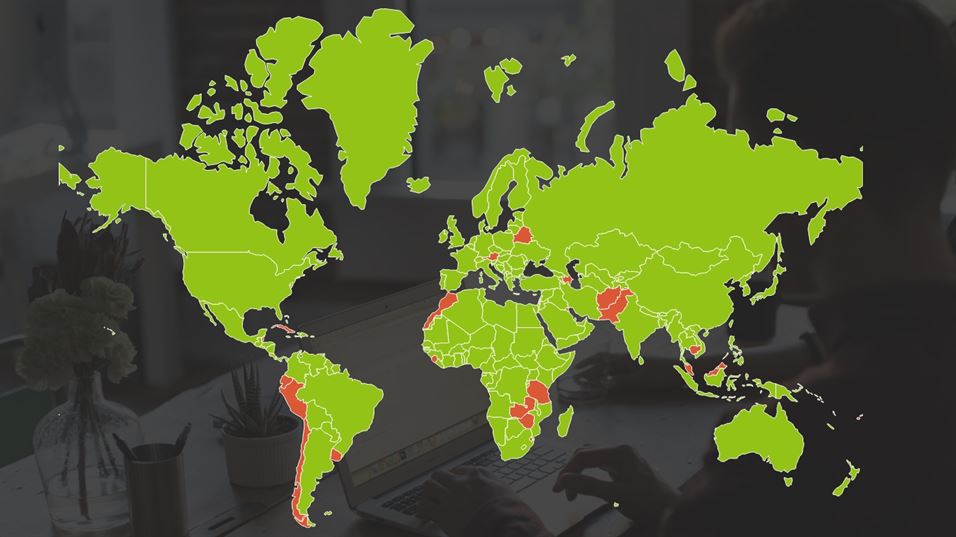 In the new era of marketing, it is most important for a business to focus on online marketing than offline. Today the world's 65% of the population has access to the internet. And when we talk about travel it is very much known that travel or holiday is something people get very excited about and they are ready to spend a huge chunk of money on it.
Look:

Travel agency marketing is not that tough to crack if you know all the right components that are effective.
The people have enough money to spend on travel or a vacation almost 95% of them use the internet. The Internet is like a basic need for them. So as a travel agency or as a travel business, online marketing is a must. Let's dig dip into the possibilities of the online marketing strategy for travel agency marketing.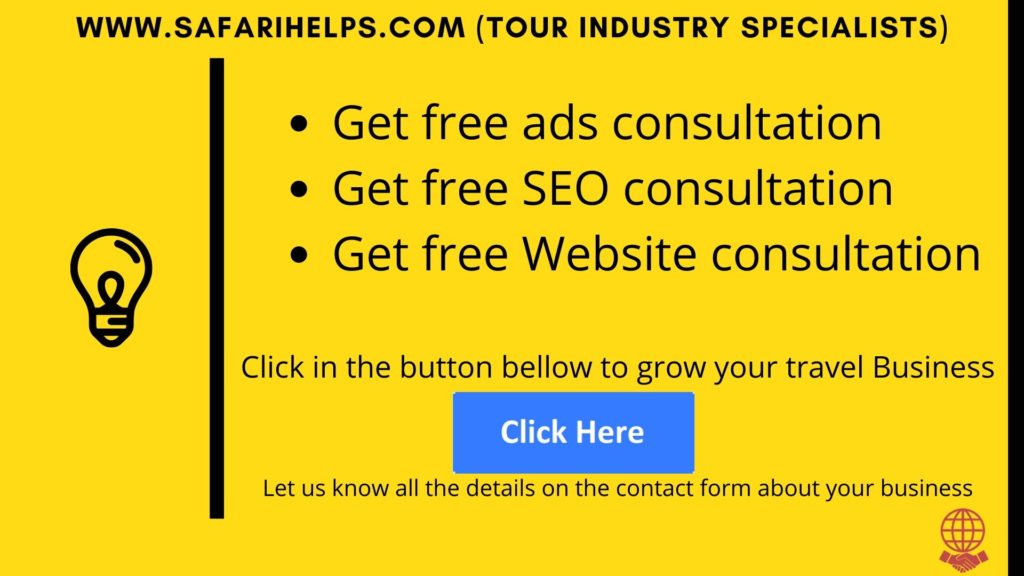 Online marketing for travel agency again divided into two parts:
Organic marketing.
Paid marketing.
Organic Marketing in Travel and tourism businesses.
When we do Marketing online and we consider doing it organically there are two platforms we can consider one is a search engine and another is social media. From both the medium we can draw a lot of traffic organically without even spending a dime on marketing.
For Search Engine, we can do SEO (Search engine optimization). In SEO for a travel website things you must take care: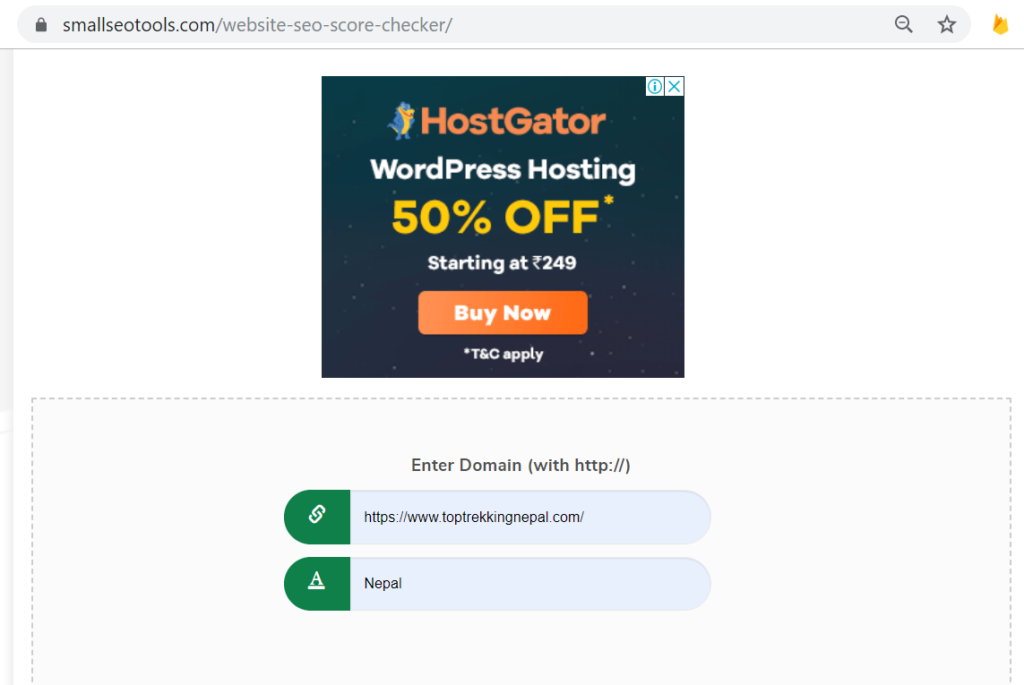 On-page SEO: Meta tag and meta description each page must be mentioned. You must maintain a title of your page which will give your page a prime identity. You must keep headings in <H1> (it's an HTML tag) on each page of your travel website. Also try to use <H2>, <H3> and other tags. You must maintain favicon Icon on your website which is again a tiny factor to SEO. The logo of your website must redirect to your home page.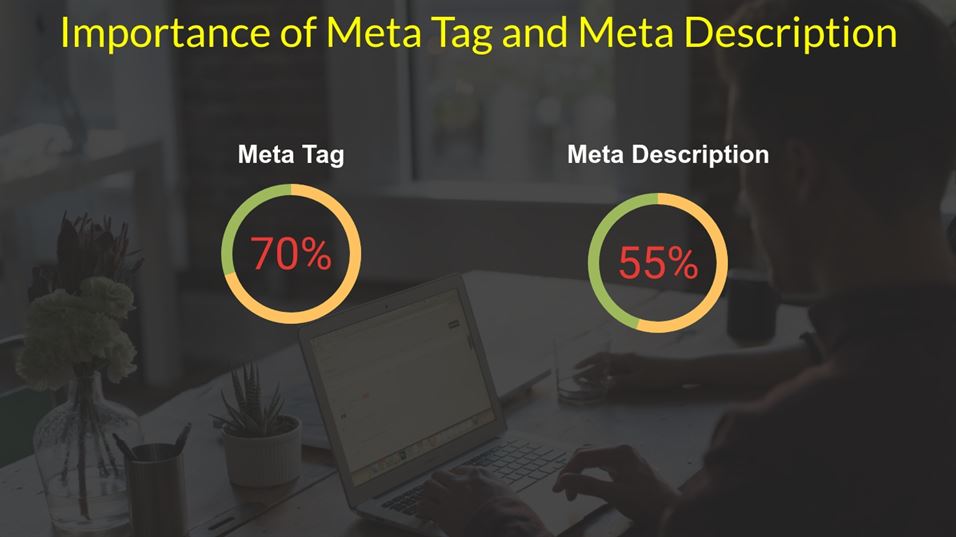 Each page of your website must contain proper keywords so that when someone searches for that keyword in the search engines your page must appear. The source code of your website must be minified. It must contain both graphic and written content.
Your Images must have alt attributes and meta-information about them. Your website must have an author bio. The content you are putting on your website must be similar to the keywords you have targeted.
To get Free marketing quote from us click here
The website must contain an XML site map and robot.txt. Your website must contain analytics code and you must link it to the google search console. So that you can see all the details about your websites. You must do a speed test of your website in both mobile and desktop as search engines prefer a faster website than slower.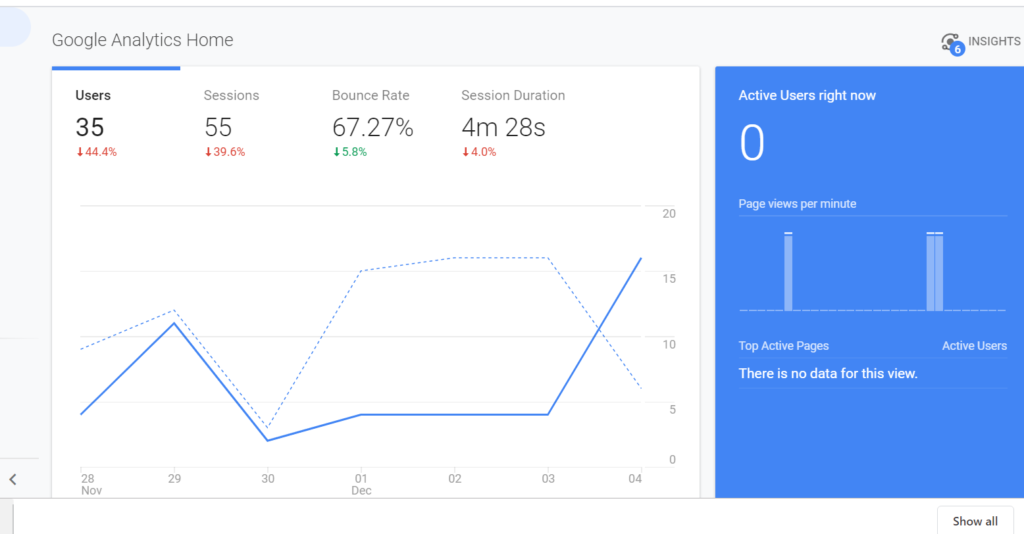 If the website is in WordPress then I would definitely recommend using a plugin "Yoast SEO", it will make the on-page SEO work 80% easier it will be very helpful. For help in SEO or to see the current state of SEO on the website one can use a website called "Small SEO Tools" It will check your on-page SEO and it will give a good idea about where your website needs Improvements.
Off-Page SEO: In off-page Seo of your travel website the things you must follow are defined by the quality of the link is pointed at your domain. If no domain is pointing at your domain then you need to form a strategy and move forward according to that. Nowadays off-page SEO is not all about link building it rather depends on the quality of links that are pointed to your website with the type of keyword and your internal linking also matters.
It also includes social sharing, how many social sharing you are getting that matters a lot these days because if there is quality it will be shared that's how the search engine knows this is quality.
When we talk about link building there are several ways that we can do link building we can do directory submission, but always find the directories with high domain authority.
One can do travel blog commenting on relevant posts. Also, you can approach a guest posting and in favor, you can ask for a link or you can write some amazing content.
Once you do that you will automatically get the links as people will see the value in your content. For link building or spying on competitors link you can always use a tool "ahrefs".
This tool is best in the market to do all SEO stuff starting from keyword research or backlink building till spying on your competitor's travel website.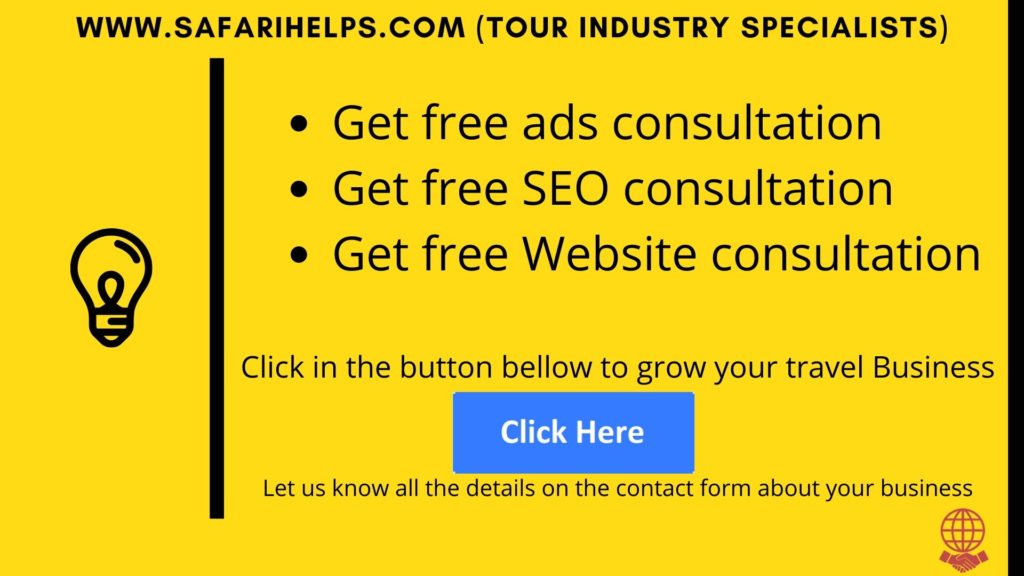 Bottom line Is?

These strategies are all going to work only when you do them perfectly.
BLOG: Write blog posts to bring more traffic to your website's writing blog will help you inform your followers about various offerings and information about your tourism business and industry. And try to keep your post to the point and reach in content.
This was all about SEO If you need a detailed post only on SEO do let me know in the comments below.
For social media, we can do SMO (Social media optimization). Things you must do in SMO for social media:
There are many social media websites but here we are going to talk about only which are most popular and how we can conquer them with some SMO techniques.
We can't emphasize this enough:

That how important Social media marketing is for tour business.
…. Follow all the strategies care fully you definitely will get results.
Facebook: First you have to create a Facebook business page with perfect details of your business and website.
Add a profile picture that reflects your brand as a logo.
A good cover photo.
Add a short description to your page.
Add a long description to your page (Story in about section)
Add a description of your cover photo.
Add a website link.
Select the right business category.
Create a custom URL with the username.
Add a call to action button on the page.
Ad page tabs to sell products or services.
Pin your most important post.
Start posting videos.
Create video playlists.
Enable reviews.
Measure your performance.
These are the steps you must do for optimizing your Facebook page.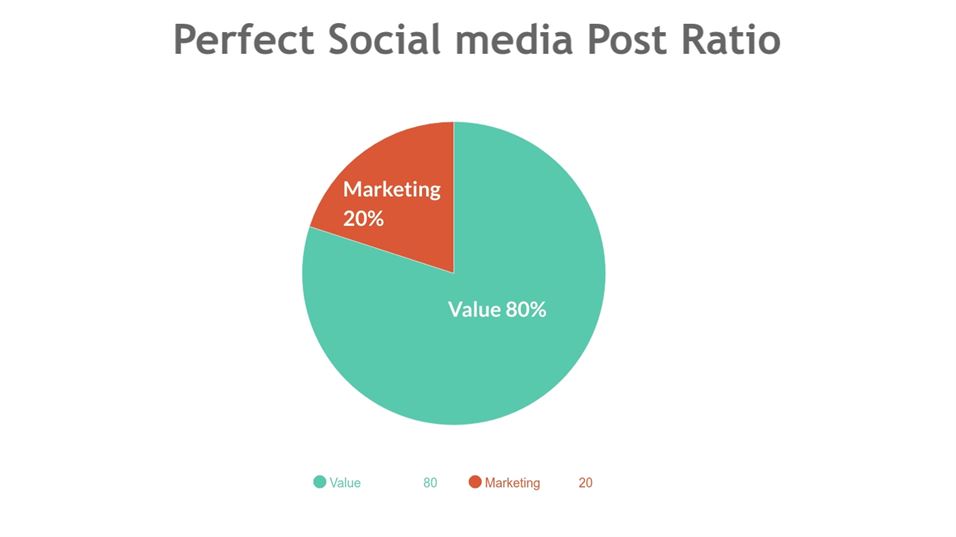 Instagram: First create an account for your business on Instagram with proper details of your business and then follow the following rules.
Don't try to cheat the system
Improve photography.
Develop a consistent image editing skill
Be really active on Instagram.
Interact with the right people (Use proper #)
Your Profile picture Should be really good in small.
Make a good Bio (Creative).
Use all the # u can. (30 is the limit)
Use the right #
Geotag your Images (Give them a location)
Use a really good caption.
Include a call to action (Ask people to tag their friend).
Tag other people in your Images (Not influencer, No overdo)
Stay on Topic.
Work on big trending topics.
Keep a consistent schedule of posting.
Post at the Right Times.
Switch to a business account.
Listen to analytics.
Reply to the comments.
Use Instagram Stories.
Be really Active on the Platform.
Try to go live once a week.
Post good videos.
Promote your Instagram on other social media.
Partner with other fellow creators.
These are steps you must follow in order to nail the SMO on Instagram.

Twitter: First create a twitter account for your travel business with proper information and follow the following steps and give your best you will get a lot of traffic to your travel pages.
Follow 80/20 Rule (80% value 20% Marketing)
Trending topical posts
Popular # (hashtag.org)
Pin the Important tweets
Buffer tool (Schedule social media Posts)
Revive old post tool (only WordPress)
Have a good Profile Image fully Professional
Build credibility by good bio by writing your achievements.
Watch closely, your Engagements.
Model after the best (Follow best in the industry).
Use Keyword which is trending on twitter.
Use media to attract more customers.
Mention your followers and message them personally.
Reply and retweet.
Brand your cover images.
Use the Hootsuite tool(To organize social media).
Follow back
Use shorten links
Curate other Content if you like something for your followers.
Organize connections into a list for a close look.
Post Consistently.
Post at the right times (9 AM, 12 PM, 3 PM, 6 PM)
Share Pinterest photos automatically on twitter.
Share youtube videos on Twitter automatically.
Share content more than once.
Make your Profile easy to find.
Use the twitter app For quick tweets.
Have a twitter follow box on your website.
Have twitter share buttons on Blog posts
Connect your twitter to Facebook page tab.
Use embedded tweets in blog posts.
Link your Twitter profile to all other social Profiles.
Try to use the same profile Name Everywhere.
Use Custom Hashtags that refer to your brand.
Credit your Sources (It will create goodwill) (Trust on Facts)
Reach out and network with the right people.
Respond to messages from followers.
Use name or brand name in twitter handle.
Keep your tweet short and sweet
Don't use more than 3 hashtags in your tweets.
Spread Out your tweets instead of posting all at once.
Follow about 20 people a day who are interested in your industry.
Optimize headlines for better clicks on twitter
Don't skip the weekends.
Share quotes on your wall
Tweet industry news every time.
Make sure your profile is completely filled out not even a single detail missed.
Follow the following steps to nail the twitter SMO.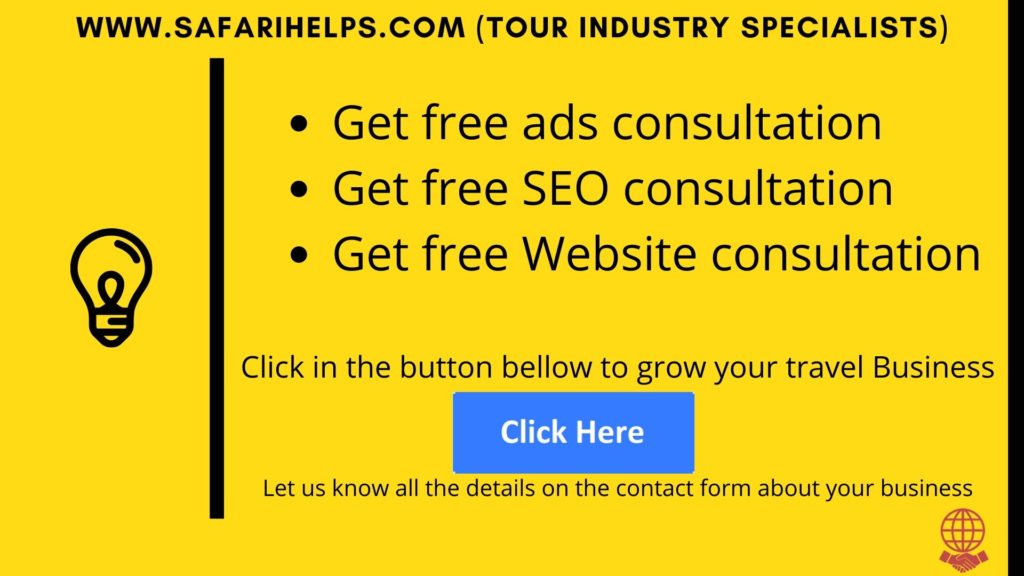 Here is the deal:

Pinterest is something which very highly underestimated by all the marketers but…..
………..For travel agency marketing, Pinterest can bring a lot of targeted traffic to their website.
Pinterest: It is again one of the most popular social media to bring traffic to your website via social media for free if rightly SMO has done. Follow the following stem to enhance your travel business and get a lot of bookings.
An awesome profile picture
Use niche relevant keywords in the business name
Use niche related keywords in bio
Add a call to action button at the end of your bio and a link
Verify your website
A mix of 10 boards with 30 pins on each
Use keywords in the board title
Add keywords to your board description
Categorize your boards when setting them up.
Use branded Image for your board cover photo
Have a board dedicated to your own website content.
Put your best board at the top of your profile
Create a custom template for your website pins
Optimize your pin size(735×1102 px).
Only crate and pin images with text overlay.
Use keyword-rich pin descriptions.
Only re-pin high quality, valuable content.
Add a pin it button to your image.
Add Pinterest share buttons. (on the blog)
Add Pinterest follow buttons. (on the blog)
Include at least 1 pinnable image in every blog post.
Embed your account/boards on your website.
Join relevant group boards
Use a scheduling tool for the post.
Repin your own pins regularly.
Install a pin button for your browser.
Bring your own content to the top of your boards.
Do a monthly Pinterest audit.
Delete underperforming pins.
Set goals and track your performance.
Use the smart search future to your advantage
Increase your validity score & engagement rating.
Follow and connect with other pinners.
Show thanks when people pin from your blog.
Cross-promote on other social media accounts.
Join Pinterest promotion group of Facebook
Create your Own Group Board.
These are the ways to excel in Pinterest SMO if you follow as it is you will get a lot of bookings.

Tripadvisor: When you belong to the travel industry you can't really avoid trip advisor it's a must it will in your all tourism marketing strategies. The following are the must-do for a trip advisor SMO.
Ask your guest to write a review on TripAdvisor
Quality Reviews
Recent Reviews
Ask for the review (Send Email, Incentive, etc..)
Provide an excellent service so that the review must be good.
These are the must-follow things for trip advisor SMO.

But there is a catch:

For the tour, industry trip advisor is like Amazon without commission so, the trip advisor is a must.
Youtube: Youtube is the best platform to share your tour adventure videos. First, create your youtube with the exact business name and then follow the following steps for SMO.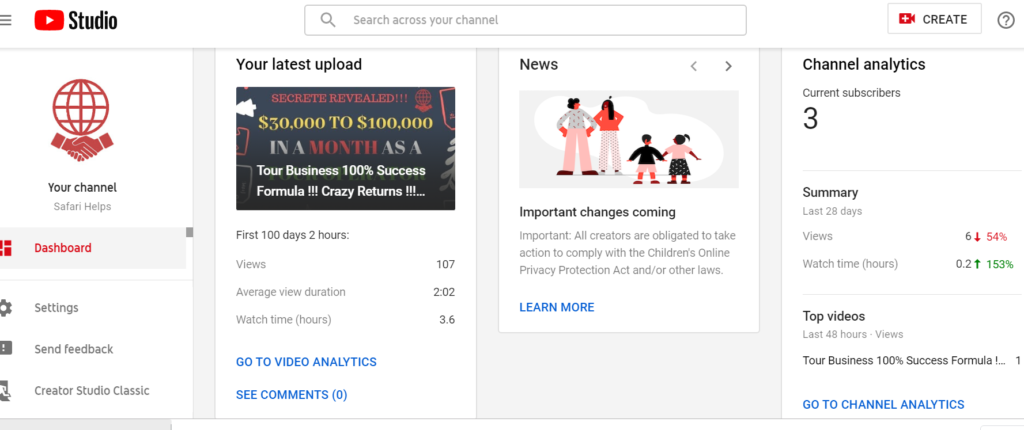 Maintain your business name.
Write proper about us.
Ask for a subscription in every video.
Ask to share the video.
Link other social media accounts to youtube account.
Use youtube studio for a better edit
Always include website links in the description.
Write a proper description.
Use proper keywords in the description.
Don't spam with only keywords.
Share your Youtube videos on other social media.
Use proper hashtags in your video while uploading.
Try and provide a solution or entertain with your video.
These are the few steps you must follow to do Youtube SMO and do it properly.

This was all about SMO and how you must carry on your SMO on different social media platforms let me know below on comments on how you liked.

Paid Marketing in Travel and tourism businesses:

When we do Marketing online and we consider doing it paid we have several platforms to do it we will discuss all the popular paid marketing platforms in detail and what is the opportunity of doing so and how we can get the best results spending less money out of it.
It is divided into two parts based on the platform on is a search engine and the other is social media.

Search Engine paid marketing for travel agency points to remember:
Choose the right keywords according to search volume.
Make different ad groups as per different travel itineraries.
Set a sufficient campaign budget.
Use keyword planner for perfect keywords and negative keywords.
Choose the perfect ad according to your campaign objective.
Choose the kind of keywords you want to go with (broad match, exact match or phrase match).
Optimize your web page for a better ad score.
Optimize your ads regularly to get a better score.
Regularly optimize your campaign budget to get better results.
For videos keep your ads entertaining or well informative.
Do proper targeting according to location and language.
Use an affinity audience.
Use site link extensions for better optimization of ads.
Use the targeted keywords on the landing page.
Choose a perfect landing page for an ad.
Make multiple ads for all ad groups.


Google Ads: by the popularity of the search engine Google is the most popular search engine all over the world as almost 73% percent of traffic is google traffic. About almost 1.2 to1.3 billion daily searches per day performed on google.

Here is the catch:

Google ads are is very effective if it is used properly……..
……….. If not it can be a pain as well. So always take an expert advice or hire an expert to do it correctly……….
Google has three types of ads for a travel business first one is text ads than the other two are banner ads video ads. You can choose any of them according to your requirements. You can also retarget your customers through google ads. In retargeting your ads will only show those who already visited your website or visited a certain product or service page.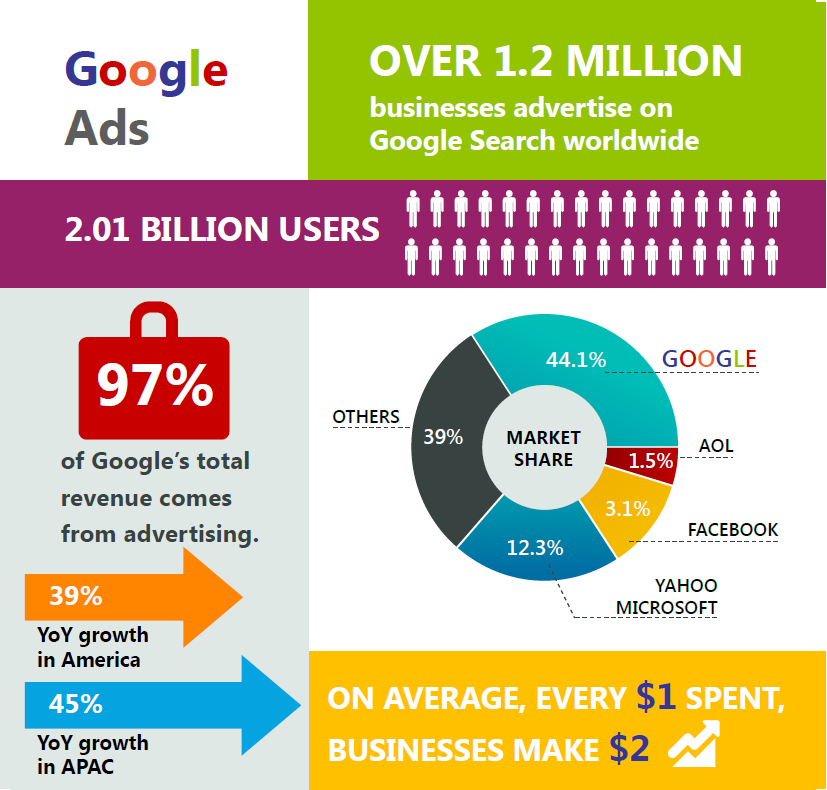 You can launch new products, build brand awareness or generate leads. If as a travel business you're going for paid marketing google is a must. In marketing strategy for travel agencies, google ads will provide the most accurate traffic as people will search for those key phrases.

Bing ads: Bing is the second most popular search engine in the world with 11% of the search traffic. When we talk about bing ads for travel agency marketing it might cost you less than google ads because it has the lesser reach but you can do everything that you can do with google ads. The search engine belongs to Microsoft so there is no doubt of the credibility of the platform it can bring a huge amount of targeted traffic to a travel or tour website.

If you need a detailed article on search ads or on how to do keyword research do let me know in the comments below.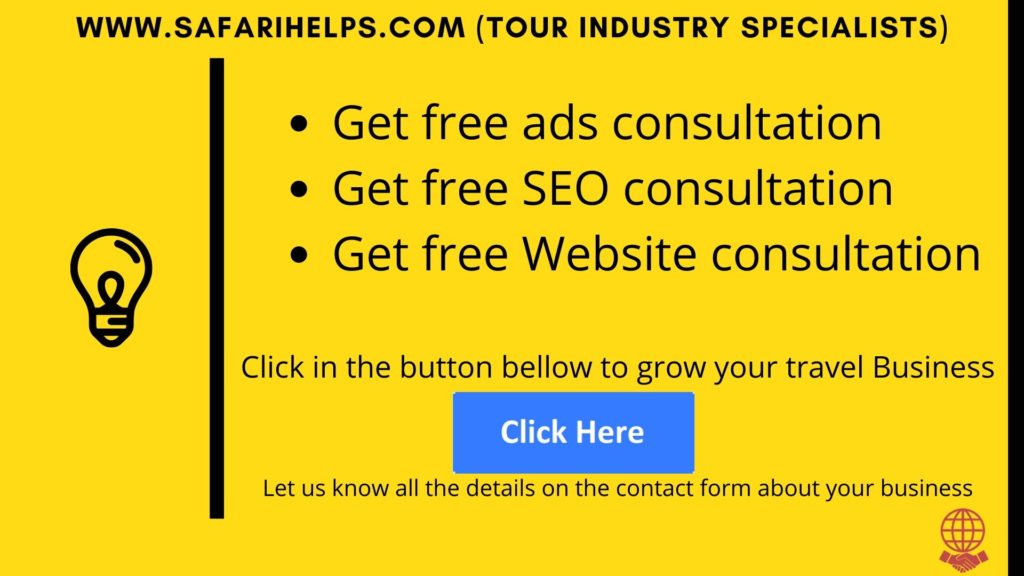 Social Media paid marketing for travel agency points to remember:
Use a proper image or video.
Use Image with less text with proper visibility.
Use an engaging video.
Photo or video must be relevant to the topic.
Links should be on the proper page where you want to send the traffic.
Do proper targeting according to location and language.
Use a lookalike audience for better results.
Choose a proper interest.
Try to keep the target audience less than 10,000,000 but more than 1,000,000.
Use custom placement according to your needs.
Stick to your campaign objective.
Install the pixel code on your website.
Save your audience for later use.
Do the split tests on ads.
Do ads testing with different photos and videos.
Follow the proper advertising rules.
Make a privacy policy page on your website because for some ads you might need it.
Keep your custom budget per day according to your objectives.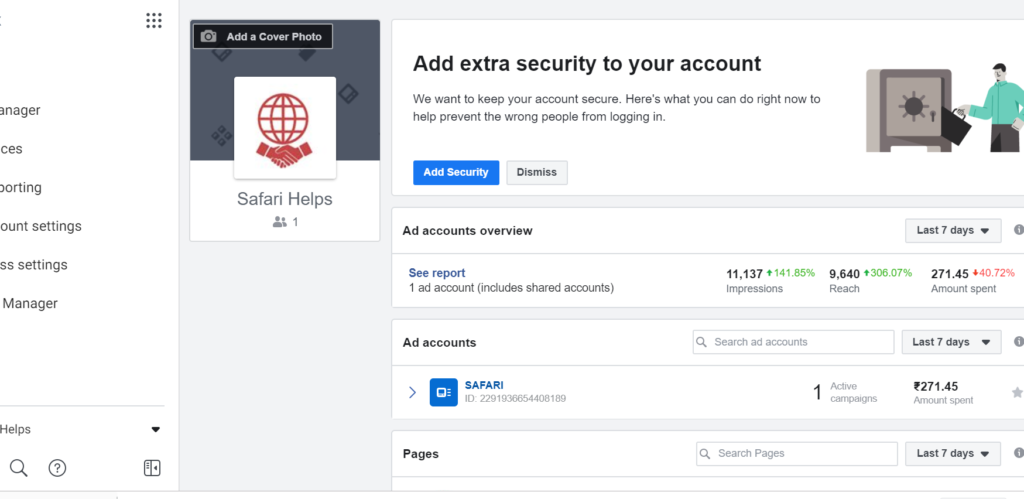 Why does social media marketing matters for a travel busieness?

Social Media marketing matters for a travel business because with social media we can some times convert a customer who was not even considering a holiday as well at your destination…………..
Facebook and Instagram: Both belong to the same platform as far as the ad is concerned. Facebook has 1.2 billion daily users whereas Instagram has about 1.1 billion monthly users. In Instagram 44% of the user open Instagram at least once a day. On average person spends about 45 minutes a day on Facebook.
Through both the platform business can run many kinds of ads some of them are link clicks, engagements, app downloads, catalog selling, etc. and they can do it through an image or video. The platform helps connect the tour business with their prospective clients as they have area wise, country wise, state wise location targeting. The platform also offers to connect with business as you can choose in targeting the business page admins so that your ads only be shown to the business owners.
So the use of this platform is a must in marketing in travel and tourism.

Youtube: The platform is a social media but it is part of google ads to run ads on the platform travel business have to run ads via google ads. One can do all the functionalities available with google ads on youtube. Youtube ads are generally very engaging if one can inculcate a story with the ad.
For showing some amazing travel videos travel companies can get a lot of bookings or inquiries. 1.3 billion people are currently using youtube. In total, 5 billion videos are being watched everyday on youtube.

These are platforms in which tourism marketing's paid marketing campaigns can be used. If you want more detail on anything contact us If you want to hire us for marketing whether that is paid marketing or organic marketing do let us know.
Offline Marketing strategy for travel agency

Focusing only on online marketing is not going to help a travel agency to reach the top of the ladder. Some cases both go hand to hand. Though offline marketing is traditional it still works like magic if one knows how to do it properly. We will discuss some of the most important and very effective tactics.

Create materials which are very attractive for destination marketing:
Your brochure and all your marketing materials should be very attractive designs wise. When you try to do marketing with the quality it becomes a good experience which is very hard to forget. Sometimes a small change can do wonders when it comes to human experience always choose the colors carefully which suits your brand. Don't forget to make a good business card and drop it wherever it is needed.

Attend all marketing events for travel and tourism:
Try and attend all the travel agency marketing seminars and events. Attending the event will bring the positive word of mouth towards your travel business and people will start talking about your packages and if you provide anything unique they are going to contact you for those. Talk about your business and the experience that you provide. Project your travel business as an industry expert and specialist.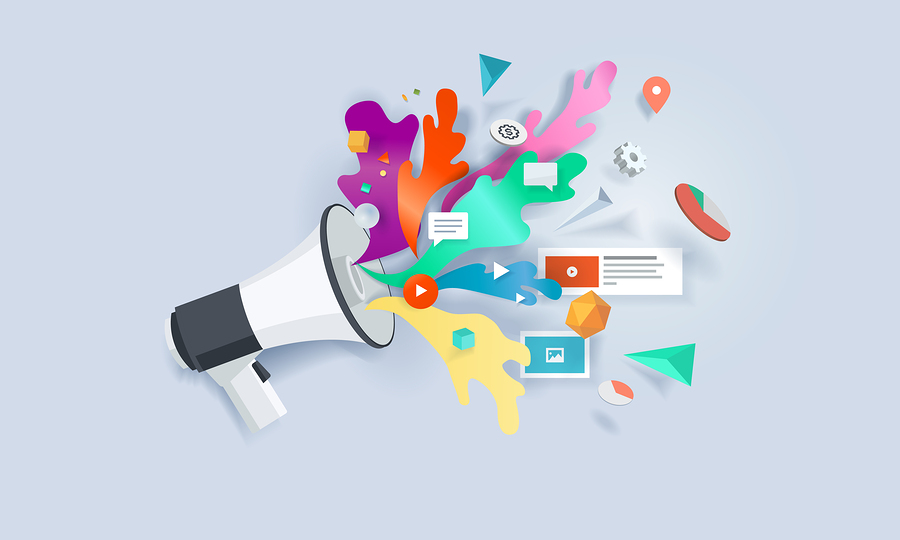 Connect with other travel agents:
Connecting with others is a very important part of travel businesses you both can work in the barter system (clients for clients). You can also take some percentage for providing them the business. If you have partnerships with the travel agencies of other countries it will be very helpful. Agencies can help each other and provide them with local queries and get benefit from each other.

Your Service:
Last but not list your service will speak for you. If you provide good service to your current customer they will speak for you. When you will provide them with an unforgettable experience on their current visit once they go back people will ask them about your service and they are going to recommend to you they will give you a very good review in front of their knowledge. So the service is very important never compromise on that.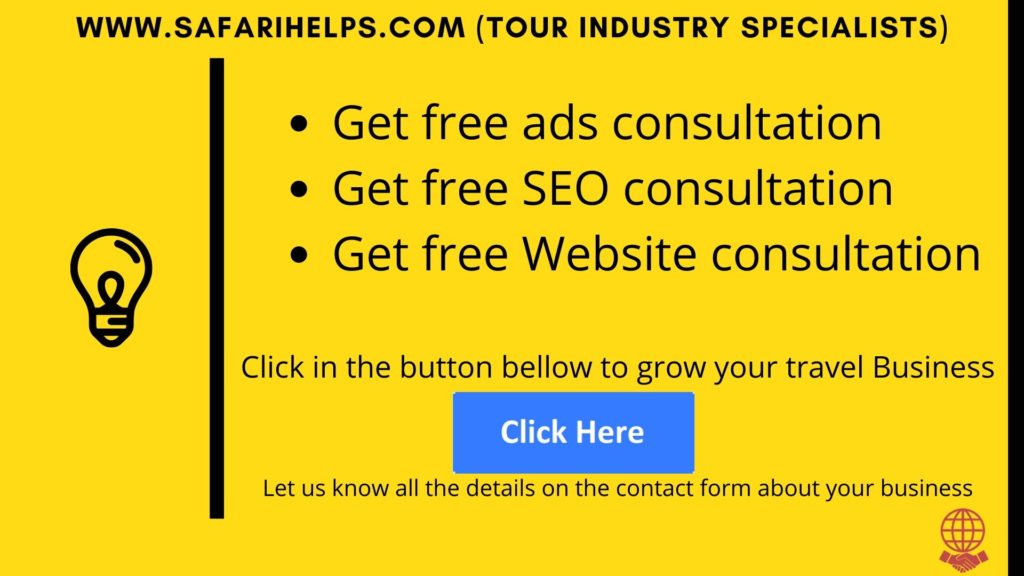 These are the ways through which you can grow your travel business take it as your tourism marketing master plan.

If you want to Hire Safari Helps for your marketing do let us know. We have very lucrative marketing packages for your business. If you have any price concerns do talk to us. We also do web development. We can make you all kinds of web designs at an affordable price range.
Hope you enjoyed the article do let us know in the comments below if you want any other kind of help or you would like to read about some other topics we will definitely help you in that. Please subscribe to our newsletter for fresh content. Do follow us on social media.
---